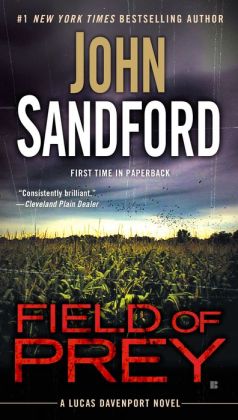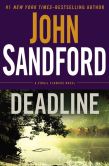 Yes--a two-for! I enjoy John Sandford's books. I'm a midwestern gal--born and raised in Iowa, just a bit south of the settings of his books. It may be that I "get" some of the regional quirks and references that others might miss. Every book takes me back to what is wonderful, and odd about Iowa/Minnesota.
These two books particularly appeal to me. They unfold in a concurrent time frame. Lucas (
Field of Prey
) and Virgil (
Deadline
) are talking with each other throughout both books. Sandford does a masterful job of flirting with the reader without creating any road-blocks to understanding or appreciating both books.
Of the two I probably enjoyed Deadline a bit more, but I read it most recently so it may just be a matter of immediate recall. Virgil is called by his friends in southeastern Minnesota (close to my last location in Iowa!). He gets pulled into a triple--dognapping, meth manufacturing/distribution, and school board malfeasance. It is this last that really got me. As I near the end of my career in education I am more and more aware of the roll of greed and opportunism in our schools. I don't know if it has always been this way--but I am very aware that public education is at the center of some very unpleasant financial dealings. Hopefully Sandford has created a fiction way beyond the realities of any real situation.
Meanwhile, I get a laugh out of the characters and relish the appreciation Sandford has for the finer qualities of many small town midwesterners. With a few exceptions they are wonderful people who really should be the "heart" of our American values. Sandford's characters are as flawed and as wonderful as my neighbors and friends.
If you're looking for great entertainment spend some wonderful hours with Virgil and his collection of interesting characters in
Deadline
.
Field of Prey
is the stronger thrilling sort of read on which Sandford originally built his writing career. It is a well crafted detective story continuing the tale of Lucas Davenport, his family, and team. In the last several books in this series he has also been adding a bit about politics. I appreciate his perspectives and insight on the political process. He does a good job of avoiding flat characters and helps me think about the effects that politics is having on our national life.
Both are good reads and compliment each other quite nicely.