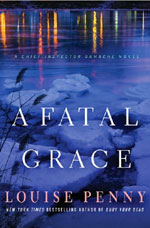 I picked this up because of a review I heard on NPR.
A Fatal Grace
is second in a series about Armand Gamache, former Chief Inspector of the Homicide with the Sûreté du Québec. The series is technically "detective fiction" or a "murder mystery" but the writing itself is literary. I will be reading other titles in this series and hope to continue to be delighted with the artful weaving of the arts with mystery/detective work.
A Fatal Grace
is set in a lovely village in the Canadian province of Quebec. The cast of characters include a poet, two artists, and several other interesting folk. The poetry included in the book is lovely and inspired me to return a volume of poetry to my "to read" stack. Inspector Gamache is a particularly compelling main character. He is intelligent, sensitive, and wise about people. Unlike many other detectives he appears not be to plagued by major personality quirks or haunted by demons from his past.
If I'm reading her home page correctly I have quite a bit of reading to do. I appears there are 11 titles in this series to date.
http://www.louisepenny.com/